I was passing though an airport this week, and as chance would have it, Steve Nash's blue eyes were staring directly at me. The magazine was "Men's Journal" and the cover story title read: "STEVE NASH: The Superstar Who Made the NBA Fun Again". My shoulders immediately slumped as I suspected to myself "here we go again". Then I read on (Note: Subheadings not included by original author):
Nash's Effect on NBA: "…he has revived the NBA, morphing it from a walk it up, half-court grind to a fast-break air show with speed and meet me at the rim precision. Indeed, for all Nash has accomplished as a paradigm shifter, his reward was another round of questions."

Nash as "the Everyman": "At a press conference to announce his return to Phoenix … he wore a pair of golf-shoes, the only non-sneakers he owned" or "Sightings of Nash pushing the twins' double stroller are as common as delays at the Holland Tunnel."

Nash as Black-Athlete Antidote: "The NBA is known, fairly or not, for superstars who roll five deep; 20 something moguls in tint-glass Maybachs who travel with handlers and hangers-on. But when Nash shows up for a meal in Manhattan, he arrives on foot and on his own at a diner he selected. Clad in his permanent off-the-court ensemble – baggy gym shorts and a sleeveless tee – Nash is unadorned by tattoos or diamonds or even a watch."
First things first: I am a HUGE Steve Nash fan.  I absolutely love watching him run an offense, and certainly a fun one at that. I love that he: sees Amare and Marion on the cut EVERY time; cannot be double-teamed without a two point cost; makes Raja Bell a relevant offensive player; shoots over 50% but is a guard; and I just LOVE that he never gives up his dribble no matter how far he has gone under the basket. But what I truly admire most about Steve Nash is his social consciousness and his community service that is described later in this article. If I had to really nitpick for a flaw, it would be his gosh-gee-wiz-just-happy-to-be-here-Derek-Jeter-like false modesty that so many other fans seem to eat up. Make no mistake: Steve Nash is a cold-blooded basketball assassin who – like the mindset of any top 10 NBA player— believes that he is the very best player every single time he steps on that court. I love almost everything about Steve Nash… except those that write, cover, and
report on him. So moving on…
Where to start?…
The game was already fun whether you and your magazine's targeted readers were paying attention or not. And even if you weren't a basketball "purist" fan of watching the fundamentally-sound Spurs or Pistons, Steve Nash is not the first guy to run with a basketball since the Showtime Lakers. The Sacramento Kings were doing it a few years ago, the Mavericks were also doing it AFTER Nash left, and Jason Kidd's fast-break style led the Nets to two NBA finals appearances. The game was fun knowing Kobe Bryant could approach the sublime on any given night; it was fun watching that epic Mavericks-Spurs 7 Game series two years ago (best in history for my money)
[1]
; and it was fun with the league's recent young double-first-name superstar infusion of Lebron James, Dwayne Wade, Carmelo Anthony, Dwight Howard, and Chris Paul. But the most fun that this fan has had in YEARS was watching last year's first round series of those tattoo-having, diamond-wearing, 5-deep-rolling, tinted-glass Maybach-driving Golden State Warriors run the Mavericks up and down the court and out of the playoffs.  And even if Stephen Jackson won't land any magazine covers any time soon, those 3-point shots, those Baron Davis dunks, and those rocking Oakland fans with "We Believe" t-shirts all "made the NBA fun again". Having stated that, Steve Nash might be particularly useful in reviving interest in some former fans that approach Sports Illustrated's Jack McCallum with what he calls
The Old White Guy Sermon
.
But no, it's not Steve Nash's fault that the media – "unfairly or not" (is this in question?) — often uses him in a way to discredit other NBA players and the NBA itself with unmistakable racial euphemisms. Can't Nash simply be great just because he is great? Must there be an obligatory "in contrast" piece that does less to describe the NBA's "image" as much as it does to create and perpetuate one (for more see disparate coverage of NBA vs. MLB fights). But the Men's Journal article, which had promise and potential in other areas, is nothing new. Let's count the other ways how the mainstream media makes rooting for Steve Nash such a chore for even the biggest of fair-minded Nash fans.
.
1) MVP Consideration:
Nash has received unprecedented benefit of the doubt in receiving back-to-back MVPs. The first year
he
upset Shaq
with numbers that are lacking in the NBA MVP historical reference department. When Miami Herald's
Dan Le Batard
was virtually the only mainstream sportswriter to point out the mere
possibility
of race as a factor (subconsciously, if not consciously) by a 90+% white sports-voting body, he was categorically dismissed by his journalistic peers (many who were also voters).  And while, curiously, his website article can no longer be found online, one can get the gist from
King Kaufman's similar take from Salon
. But instead of endless Shaq-Nash tit-for-tat (for
pro-Nash camp see Dave Zirin
from Counterpunch), let's just agree-to-disagree as benefit-of-the-doubt courtesy #1 is graciously extended. In his second MVP, he upset two HISTORIC seasons by both Lebron and Kobe. And while I will challenge anybody fact-for-fact who says Nash was more deserving than Lebron
[2]
, let's just assume that I had a few drinks, am in an insanely generous mood, and granted benefit-of-extreme-doubt courtesy #2. But what defies any semblance of fairness, logic, and rational human thought is the
indefensible LANDSLIDE MVP vote
that concluded with Nash receiving 57 to Lebron's 16 first place votes. With Socrates, Plato, and NBA MVP voting history turned on their respective heads, this vote is "Exhibit A" why future MVP judging should be permanently taken away from our nation's sportswriters
[3]
. …
But that's not Steve Nash's fault.
2) Athleticism: Nor is Nash to blame because commentators can't see past the white athlete stereotype. Like when former NBA great Bill Walton marveled at Nash's achievements a couple of years ago in part because he was "the least athletic point guard in the NBA." While Nash has never been a great leaper, perhaps Walton never took notice of Nash blowing by most opposing guards in the league on a nightly basis. We could only guess that lateral quickness and agility have absolutely nothing to do with athleticism. Because such a reality might put a dent in the romantic notion that Nash is just like every other white guy on the couch with a TV remote, but just worked that much harder than all those "natural black athletes". But the truth is that Nash was a highly gifted three-sport star (soccer and hockey) who had professional potential besides basketball. Nash also comes from a family where both parents and multiple siblings were/are professional athletes. But it is obvious that Walton and others are "blinded by the white". …But that's not Steve Nash's fault.
Before any MVP trophies, Steve Nash became more than a basketball hero to many (including this author) when he used his influential voice four years ago to publicly oppose the Iraqi war by wearing a t-shirt at the 2003 All-Star Game that said "Shoot baskets, not people". He also stated:
On the War:

"I believe that us going to war would be a mistake … Being a humanitarian, I think that war is wrong in 99.9 percent of all cases. I think it has much more to do with oil or some sort of distraction, because I don't feel as though we should be worrying about Iraq."

[4]

On Perspective:

"It makes basketball awfully ridiculous when people are having bombs dropped on them and guns pointed in their face," Nash told the Dallas Morning News. "It's very difficult and somewhat embarrassing that in the year 2003, we're still threatening each other with violence. When you take into account that we run around in shorts and throw a ball through a hoop, it's certainly insignificant in the scheme of what's going on in the world."

[5]

On Potential Backlash

: "It's not going to hurt me because I don't really care if I have any endorsements,"

he says. "I'm not in this for endorsements."

[6]
Thank you Steve Nash for speaking up, and thank you to
Sports Illustrated
,
ESPN
and other mainstream local media for helping to make Nash's voice heard. In my opinion, the more press Nash gets, the better.  …But Nash is not to blame when fellow NBA player Etan Thomas, author of the book "
More than an Athlete
", attempted to make his feelings known and was initially met with roadblocks. In this interview given with
The Starting Five
this is what Thomas had to say:
"…Back when I first wanted to come out publicly against the war in Iraq, I surprisingly was having a lot of trouble finding a media outlet who would allow me to use them as a vehicle. I went to the Washington Post, the Washington Times, New York Times, every publication I could think of, and nobody would touch the story. Dave Zirin [

Edge of Sports

] was working for the Prince George's Post at the time, and he was more than happy to publish my article. The piece was called, "

I Am Totally Against This War

". This was back in 2004 when it wasn't too popular of an opinion to be against the war in Iraq. Now, most people, even Republicans, are speaking against this war, but not back then."
If NBA athletes, and particularly African-American athletes, are often portrayed with a sweeping one-dimensional brush of "dumb jocks" at best or "thugs" at worst, perhaps Thomas' media experience might help explain why. Ironically, it may be possible that Nash may have benefitted twice over his black NBA colleagues, once by getting his story told, and a second time by not having his public anti-war stance greatly diminish his popularity or endorsements — even if, to his credit, Nash was fully prepared for that outcome [7] …But that's not Steve Nash's fault.
4) Community Service:
Steve Nash was one of only three athletes named by
Time magazine last year
as one of America's most influential people. This summer when Nash collaborated with Yao Ming for a charity game in Beijing to help orphans in China
we commended Nash and Yao
, and also
ESPN's Henry Abbott for covering that important story
. When the annual "Steve Nash Charity Classic" was held this summer it was also wonderful to see Sports Illustrated's website pick up the story. And while
the SI link
has since been removed, you can read
Sam Cassell's take
on the event. However, much to my disappointment, that very same week SI, ESPN, and virtually every other mainstream website chose not to run a story on Dikembe Mutombo's ribbon-cutting
grand opening ceremony from a $30 million dollar hospital
in his own home country. Mutombo ain't Nash, and Canada ain't The Congo. And it's also not Steve Nash's fault that virtually no national mainstream outlets covered Stephon Marbury's extensive community service this summer that included his own annual basketball tournament, "
Starbury Giveback Day
", and a
4 million dollar pledge
to New York City workers
[8]
. And despite Marbury's release last year of a
revolutionary $15 sneaker
which Mavericks owner Mark Cuban called
"the biggest business story of the year",

Marbury didn't do enough to make Time's list or any mainstream sports magazine cover
[9]
.  …But that's not Steve Nash's fault.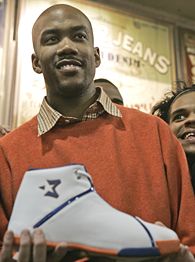 .
And then on April 29, 2007 everything suddenly came to a head. Nash was in the midst of a playoff masterpiece in which he racked up 20 assists after three quarters against the Lakers. While thoroughly enjoying the performance commentator Jon Barry, perhaps overly giddy from the display, said the following:
"I don't know if we've seen a better passer in the NBA ever"
. Barry, a former player with ties to history's greatest point guards
[10]
made this statement with millions watching and thousands in attendance including one man by the name of Earvin "Magic" Johnson.
The Protest Begins:
Barry's act of basketball announcing blasphemy was the cake-icing that made me lose all focus. That was the day I foolishly started to go against my true nature and root AGAINST Steve Nash. I watched the whole 4
th
quarter hoping he wouldn't match the NBA playoff record of 24 assists held by Magic and John Stockton, and cracked a relieved sigh when he finished with 23. I suddenly had deep fears of his Sun's winning the championship as overzealous announcers might then pontificate if Nash was now superior to Michael Jordan. And even though Nash had done absolutely nothing wrong except have the audacity to play brilliant basketball, he had become the innocent object of my new "media protest stance". By rooting against Nash, ultimately, I was rooting against the widespread media-perpetuated "white privilege".

White Privilege
is something that I know about. Steve Nash is not the only beneficiary! Every single day I get benefit-of-the-doubt love from cops, cashiers, employers, security guards, landlords, waiters, loan officers, and just about everyone else. You see, in racial terms I'm just like Pamela Anderson, the only difference is that I KNOW that everyone around me is not "really really nice" to everybody. Have I ever told you the story of the cop that pulled me over (I'm often perceived as Hispanic), and how I immediately put on my very best Frasier Crane voice, and he instantly became apologetic and told me what to say to BEAT the $80 ticket in court? I'll spare you the details besides the fact that almost no one in the court room looked like me. The fact is that the laws of white privilege dictate that I can make the same exact statement, put forth the same exact argument, and write the same exact article as another more talented black writer and my perceived "unbiased" voice is more likely to be received. For some readers, I'm benefitting from WP right now! Hey, besides the celebrity, bank account, and deft passing touch, I'm more like Nash than you might think! Well, just like Nash and his MVP trophies, I'll take it, won't give it back, flip-the-script, and use any unearned status to "give back to the community".
The Protest Ends: Of course, my silly, ill-advised, and misguided media protest meant that I had already lost. The great irony is, by continually telling me what to think, I let the media, inversely, control my mind. I started rooting against a player that I love, one that I greatly admire, and one that is everything that I could ever want in a professional athlete. But after my unfortunate lapse, I simply had to tell myself: "Don't hate the player, hate the mainstream sports media game." After all, it's not Steve Nash's fault.
It's the MEDIA"S fault!:
It was the media that often used Nash as a tool to: denigrate black athletes; to perpetuate tired racial stereotypes; to revise current and past basketball history; and, by contrast, to ignore or give token treatment to the incredible community service of men like
Marbury, Mutombo,

Kevin Garnett

, Shaquille O'Neal,

Alonzo Mourning

, Carmelo Anthony,

Richard Jefferson

, and so many others.
…But the truth is, it's YOUR fault!
That's right, it is your fault if you like up-tempo basketball and tuned into the Suns in the playoffs last year, but did not watch the Warriors-Mavericks historic series; if you appreciate the finest of pure point guard play, but didn't witness last year's playoff series' that featured Jason Kidd AVERAGING a triple-double or the coming out party of Utah's Deron Williams; if you praised Nash's politics, but never acknowledged the existence of Etan Thomas; or if the reason why Marbury's community service can't garner a magazine cover is because the big bosses know full well that you won't buy a copy. Yup, it is YOUR fault!
…But most of all, it's MY fault!
It is my fault that I: waited this long to call out the media on its blatant hypocrisy and double standards; thought that Nash's privileged status wasn't my own problem; have spent a lifetime enjoying the fruits of white privilege, but not until recently ever actively taken personal responsibility  in striving that everyone else receive the very same treatment (note: "responsibility" is not to be confused with "guilt" – a word to be rejected).
.
Conclusion: So from now on, I will go back to rooting for Steve Nash, and for everything that he represents. I'll root for his game, his community service and most urgently, for his anti-war stance to be heard by as many people as possible. And if he is not facing my beloved Knicks in the finals, I might even root hard for him to get that championship ring. But it is simply not fair or ethical to wildly root for Nash, but not challenge the white privilege that he regularly receives by a media that predominantly looks likes him, lives vicariously through him, and probably wants to be him. Rooting for Nash comes with the added responsibility of demanding the very same accolades, credit, and attention be given to any other athlete who is just as worthy, if not more worthy of our praise.  So yes, it is clearly my fault because while I was innocently cheering for Steve Nash, enjoying his on-court game, and admiring his off-court causes, it took me this long to write why "It's Not Steve Nash's Fault".
---
[1]

The 2006 Mavericks-Spurs series that went into overtime during Game 7 had six of its seven games in doubt with under 5 seconds left at the end of regulation as the ball was usually STILL IN THE AIR at the buzzer.

[2]
Lebron's

2005-2006 season has not just MVP-worthy, his all-around game was simply historic. He joined all-time greats Oscar Robertson, Jerry West and Michael Jordan as the ONLY players in NBA history to average at least 30 points, 7 rebounds and 6 assists in a single season. In addition to outscoring Nash by more than 12 ppg, he led his team to 50 wins — only three fewer than the Suns. And while the Suns certainly faced tougher competition in the western conference, Lebron had nowhere near the supporting cast that Nash had—even when taking into account Stoudemire's injury. Nash had players such as fellow All-Star Shawn Marion, Boris Diaw, and Leandro Barbosa. Lebron's only other above-average teammate of note was Larry Hughes who was injured for the majority of the year.
For Lebron to lose the MVP to Nash is to strongly suspect biased voters. For him to lose it in landslide fashion is to confirm it.

[3]
The incompetence of

the LANDSLIDE Nash over Lebron vote should be cause to select an alternative body to select future NBA MVPs.

The Sporting News selected Nash and Lebron as CO-MVPs based on a tie in return-ballots it received from NBA front office management and coaches. The tie vote, whether one favors Nash or Lebron, suggests that General Managers and coaches are far more competent than our nation's sportswriters. However, Wikipedia states that until
the 1979-80 NBA season, the Most Valuable Player was originally selected by a vote of NBA players.
Since it is unlikely that anyone can be a better judge of one's effectiveness than one's own peers who players compete against, it might be best to return this vote back to the players. Another option would be a combination of players and coaches/GMs.

[8]
And while I have been a past critic of New York Post's Marc Berman, credit must be given him for being one of the only local mainstream reporters to chronicle Stephon Marbury's community service.

[9]
Marbury's lack of coverage of good deeds is particularly glaring considering the excessive negative coverage about a free-spirited interview and "consensual sex".

[10]
Jon Barry was once employed by the former franchise of Isiah Thomas; played against a man named John Stockton; was born to a hall-of-fame father Rick Barry who played with Oscar Robertson and might have passed on a history lesson or two.
POSTED BY MODI