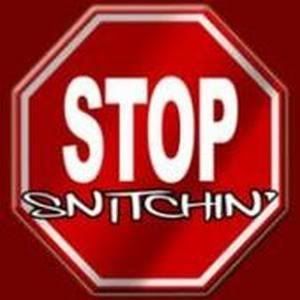 "Stop Snitching": this insidious and destructive code seems to be everywhere. It is most well known as the popular criminal code contained within street and organized crime. Some might have you believe that this code started with a DVD made in Baltimore or an old film on Al Capone. Ironically, "Stop Snitching" is also the ironclad police rule known as "The Blue Wall of Silence". Last month I saw the movie American Gangster about the rise and fall of New York drug kingpin Frank Lucas, and all I walked away from the movie was this: 75% of drug enforcement division in New York City took payoffs. Wow! I sure hope things have improved since the 1970′s. But the code doesn't end there, it is even part of our "patriotic code" of nationalism. When American soldier Joseph Darby blew the whistle on "Abu Ghraib", he did not return to a parade in his hometown of Cumberland Maryland. No, many viewed him as nothing less than a treasonous "Benedict Arnold", and he was immediately forced to relocate because his life was in danger. This war hero's crime? He was a snitch.
"Stop Snitching" is also the clubhouse code in sports, perhaps the worst crime a player can commit. Just ask Jim Bouton about his life after he wrote the classic "Ball Four". Ask Jason Grimsley if he has attended any baseball cocktail parties lately. And ask Jose Canseco about his REAL crime. A fraudelent career based on steroids use? Nope. Being "a rat"? Yup. Then, with rare exception, there is the unspoken code of journalism: "THOU SHALL NOT PUBLICALLY CALL OUT OTHER JOURNALISTS". It is understood that this code protects ALL journalists. If you don't go after them, then no one will go after you. This way everybody gets protected. Even Anne Coulter. Call it employment survival. The problem? The field of sports journalism never rids itself of its "rogue cops", never has sanctions, and never throws penalty flags for illegal use of the pens. In fact, it REWARDS them. Just ask Jason Whitlock, Jay Mariotti, or the scores of colleagues who refuse to specifically call them out.
The media response to Sean Taylor's murder marked a new low in sports journalism, and there is some small evidence that mainstream might be reaching "a tipping point". Many bloggers and fans have expressed their disgust for some time, but now some voices are starting to come from within. And the message seems to be this: ENOUGH is ENOUGH! Whether it be Barry Bonds, Isiah Thomas, Sean Taylor or others, some mainstream writers are stepping up to the plate. Thanks to the awareness raised by other bloggers, COSELLOUT became aware of the following:
1) Taking on the Anti-Isiah Media Hysteria:
On Thursday COSELLOUT covered how the New York Daily News has helped to create and perpetuate a fan circus through its own brand of anti-Isiah activism. We were quite pleased to see the mainstream media follow up on this story. In today's A Tabloid Takes Sides in Its Coverage of the Knicks the New York Times RICHARD PÉREZ-PEÑA writes:
"Tabloid pugnacity ran headlong into journalistic impartiality in New York last week. Impartiality never stood a chance. All right, the issue at hand wasn't the Iraq war or universal health care. Still, it was at least mildly jarring to see The Daily News turn a full page of its news section into a sign calling on the hapless New York Knicks to boot their president and coach, Isiah Thomas. …Most of American journalism pays at least lip service to the idea that news reporting should not take sides in the matter being covered, even when it comes to the performance of the home team. But New York City's tabloids, The Daily News and the even more opinionated New York Post, do not always feel bound by that rule."
On his blog article "Fan Protests Bore Me" (hat tip to KnicksDefense), New York Newsday's Ken Berger takes it a step further by talking about the influential power of such "activist journalism". He writes:
Gotta love this anti-Isiah culture, which has morphed into a contest to see how many fans can siphon 15 minutes of fame out of a giant trough of misery. And given that there are often more reporters than regular citizens at fan protests like the one held outside MSG on Wednesday, in this case I will assign the requisite blame for the people who created such phenomena. The media.

To an extent, it's our fault. We feed the beast, and then the beast demands to be shown on the 11 o'clock news and in the newspapers. The TV networks make a star out of that guy in Boston who threw his Knicks jersey during the infamous 45-point loss to the Celtics, and then one of the local newspapers gives him just what he wanted – more attention. …Honestly, do you think it might be a sign that we've all gone off the rails when one of the dominant papers in the city [NY Daily News] publishes a "Fire Isiah" poster and instructs fans to hold it up at games?
Yes, Mr. Berger! It IS a sign that we have all gone off the rails! Thank you using your platform to point this out. And while Berger deserves high praise, it is Perez-Pena's semi-quip about "the Iraq war" or "universal health care" that actually raises a serious point. Has the New York Daily News ever issued signs with instructions that ever said "End Iraq War" or "Health Care for All"? What about "Fire Bush","Save Darfur", "Fight AIDS", "Stop Breast Cancer"? Any other serious cause? Now let's reconsider that "Fire Isiah" poster one more time.
Of course, The Daily News has a personal axe to grind with New York Knicks management (see Life in Knicks Hell), and has thrown journalistic caution to the wind while grinding away. Citing the notoriously biased Mike Lupica, Perez-Pena reminds us that terribly opinionated columnists from the tabloid media are nothing new, but when the newspaper ITSELF becomes the activist new lows have been reached and new codes have been breached. So it is not surprising that the coverage of this media story came from what are considered New York City's two "good newspapers". Kudos to Berger and Perez-Pena for their coverage.

2) Will Others Get The Bonds Treatment?:
In "Clemens is no Different Than Bonds" Yahoo sports columnist Dan Wetzel sets the table immediately after the Mitchell report.
For years Bonds supporters have pointed the finger at Clemens as a sign of a media (and racial) double standard. Their guy was getting crucified daily, while Clemens was getting standing ovations and new contracts. Anyone who spent years spewing contempt at Bonds needs to do the same to Clemens, because there is no difference between them.
Washington Post columnist Sally Jenkins takes it a step further by offering the following critique of not only Feds, but her sports media colleagues (from on Sports on My Mind):
Are prosecutors going to convene a grand jury, and call Roger Clemens (white man)? Will they pursue him across a half-decade until they force either perjury or a public confession from him? Are IRS investigators going to dog Kevin Brown (white man) and Chuck Knoblauch (white man) with the same Inspector Javert-like fervor? Will they audit bank accounts, grill confidants and lean on informants?

Will spectators and commentators have the same flaying, foam-flecked rage for Rick Ankiel (white man) and Andy Pettitte (white man)? Will we hear demands from (white) officialdom that their names be expunged forever from the books, that they be stripped of honors and bankrupted, reviled as the cheats of the century?

Why is it that our most severe penalties and public condemnations are reserved for Bonds (black man) and Jones (black woman)? There's a nasty double standard here, and it can't be conveniently explained away. The rationalizations don't cut it….
3) Media Self-Reflections on Bonds & Sean Taylor:

The media hypocrisies unearthed by the Mitchell Report and the death of Sean Taylor also provided many mainstream media members a time for introspection and opportunity to share lessons. In the Bonds article, Jenkins continues:
"Yours truly was guilty of excoriating Bonds when he chased Hank Aaron's home run record. It was easy to tear into him as a suspected cheat — he was a distant, surly figure. I simply wasn't inclined to listen to him the way I do my friend and colleague Lance Armstrong, my perception of whom is colored by personal affection. Armstrong has a powerful commonality; everyone's been sick. He's easy to relate to. My feeling that he's been unfairly accused should have made me more sensitive to the possibility in Bonds's case. But it didn't."
Perhaps Clemens and Pettite apologists like Jayson Stark and Tim Kurkijian can also benefit from such a self-reflection period. And perhaps ALL media members can benefit by taking close heed to the words of Jason LaCanfora from the Washington Post after attending Sean Taylor's funeral (once again excerpts found at Sports On My Mind)
"I found myself constantly thinking back to the simple truth that unless we have really spent a considerable amount of time with someone, we don't know them. Much as we may think we have an idea of what a person is about, what they stand for, their home life. how they interact with those in their neighborhood, or how they conduct themselves away from the spotlight, the reality is we have no idea. And that is of particular import to those granted the opportunity to frame public thought and bring these athletes to life.

This isn't a novel thought, hardly a revelation, but on days like this the tremendous responsibility of those paid to write, talk and comment upon others – and the impact those words can have – strikes at a visceral level. The sheer outpouring of support for Sean today, the goosebumps that came from the anecdotes being relayed, speaks to the impact this young man had on others. This wasn't fabricated emotion, and the size and passion of this audience wasn't just some reflection of the fact that a young, rich and famous athlete was being buried today….

This afternoon was real and heartbreaking and fully brought to life a 24-year old trying to be a better person, which is a lesson for us all. He was no saint and he wasn't perfect and I got to see his surly side on more than one occasion, but it's a side of myself I've shown to others as well. If Sean wasn't yet at a point where he was prepared to share his vulnerabilities with the world; if he didn't want to reveal himself to the media or pontificate, so be it."
Are Lancanfora's words a temporary burst of self-reflection at an emotional funeral or do they symbolize the dawning of a kinder, gentler movement in sports journalism? I suspect the former, but hope the latter. While none of the comments by Jenkins, Berger, and others are direct enough to be construed as "snitching" they are still helpful toward the process of media accountability. Ultimately, if sports journalism is to keep any semblance of integrity, the policing, checks, and balances must also come from within. If we are ever to make a dent into sport's 21st century "yellow journalism", "the yellow wall of silence" will have to be broken. More than ever we need our media to "start snitching".

——–
Related:
– Sean Taylor and the Death of Sports Journalism
–"Fire Isiah": Is Mass Hysteria Real or Media Fueled?