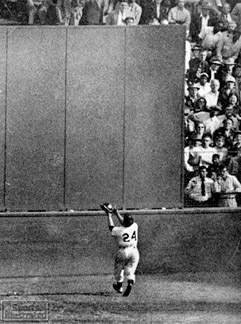 "…[Andrew] Bynum reminded me of a 21st century Moses Malone. In his minutes, he does nothing to tell me I'm wrong. … it'll be a couple years before Bynum's agility catches up to his size, but when it does, followers of The Association are in for a treat." – D.K. Wilson, Nov. 2006


"Answer for the Lakers? Do not trade for Kidd, keep Bynum and continue to develop. This injury-filled season is a blessing in disguise for L.A. If Kobe Bryant can exhibit some patience with what remains of this year's team, he will be greatly rewarded in 2007-08. With starters intact and a much more experienced bench Los Angeles will be one of the favorites to come out of the West next season." – D.K. Wilson, Feb. 2007
Before Andrew Bynum went down with an injury this past week, ESPN's website had officially confirmed Bynum's emerging greatness with titles like "Golden Child" and "Hello to Bynum's Bright Future". Go a couple of weeks back and you will find "The Lakers are For Real". Bynum's emergence and the Lakers as legitimate title contenders might have even been news to you… if you had never read D.K. Wilson. But to be a regular reader of Wilson is to: receive insights before they become popular; be familiar with his "five tool" versatility, and to ponder one of the most perplexing questions in sports journalism: how it is possible that the Willie Mays of sports writing is not playing in the big leagues?
"Willie Mays is often referred to as baseball's ultimate "five-tool" player

.
Mays  first Major League manager,
Leo Durocher
, once said: "He could do the five things you have to do to be a superstar:  1) hit, 2) hit with power, 3) run, 4) throw, and 5) field." Mays patterned his game after his boyhood hero Joe DiMaggio – another great five-tool player who ended his career during the same year Willie's began (1951). Now imagine if Mays didn't just share DiMaggio's skills sets, but also his birth date. Imagine if Mays made "The Catch" for the New York Cubans of the Negro Leagues instead of the New York Giants of the Major Leagues. Imagine it receiving no mainstream coverage, no national TV or radio, but only to be appreciated by a few thousand who happened to attend that game. Would "the catch" be any less of an achievement? Any less legitimate? Any less praise-worthy? Now imagine if Mays were a sports writer in 2008. Meet D.K. Wilson.
You won't find Mr. Wilson blowing hard on Around-the-Horn, moralizing on the Sports Reporters, or quipping on the back page of Sports Illustrated. However, you might have caught him on NPR or another sports radio show, may have read his previous work with
The Starting Five
, or  possibly seen one of his articles being picked up at the
Chicago Sports Review
, Counterpunch, or another national web publication. However, his full body of work can be found at his current website:
Sports on My Mind
– a site regularly visited by readers for education, routinely cited by bloggers for inspiration, and commonly used by mainstream writers for replication.  While D.K. Wilson has been making an impact on the field of sports journalism, unlike Mays, he  is far from a sports writing household name… and that's a shame. Regardless of the role, he is a 5-tool talent rarely seen in today's mainstream or alternative sports media.
I. The Five Tools of D. K Wilson:
1) Prolific Output:

Mays amassed 3000 hits in his career.

Wilson has put out at least 400 articles this past year – more than one per day. There are certainly many commendable websites that exceed this amount, however, they usually specialize in shorter posts instead of feature-length articles. Wilson focuses on full columns that usually have an opening and closing surrounding a well-thought out multi-paragraph concept. That usually includes at least one 3000 – 6000 word epic per week. Now consider this:  Sports Illustrated's back-page stand-up comic Rick Reilly has won "Sports Writer of the Year" TEN times. His workload?: One column per week. Sports Illustrated's Gary Smith writes some of the most brilliant in-depth profiles (latest great offering "
Escape from Jonestown
") in sports journalism. His workload?: A handful of articles per year. One can only wonder what Wilson might produce given an entire week to massage a back-page ditty or two months and a budget to investigate a story. Wilson goes deep into topics while often producing mini-catalogues of the sports year's hot topics (see more than 16 articles chronicling the
life and times of Barry Bonds
).
2) Writing Quality:

As evidenced by his 660 home runs, Mays could hit for power.

So can a Wilson column.

There are three stand outs when reading Wilson's daily columns: 1) literary "flow": It is hard to explain or quantify "flow". Like a great writer, orator, or center fielder, you just know it when you read, hear, or see it. I personally enjoyed this one amidst last year's historic 1st round upset by the
Golden State Warriors
.  2) research: he likes to research many stories rather than accept the prevailing sports narrative as gospel; and 3) amount of NEW information is probably the biggest reason loyal readers keep coming back. His research will often provide nationally unreported or underreported information as evidenced in his extensive writings on baseball's performance enhancing drugs, or his frequent turn at bat as legal analyst (see this piece on
Bonds and Pacman Jones
)
3) Originality/Courage: Mays was an original. His cap came off when he ran, he popularized "the basket catch", and he was not shy about acknowledging his talents. When not highlighting underreported information, Wilson brings up alternative points of view rarely seen in the existing cartoonish sports narratives solely reserved for good guys and villains. Go ahead, watch later this year how sports writers tell tall tales about Kobe's "newfound unselfishness" and maybe even grant him a long-overdue MVP nod.  But Wilson is not waiting for Rocky IV to give Apollo his due, he is praising Kobe and challenging the
Kobe-broke-up-the-Lakers-theory
during the media's Rocky II script.  Wilson wants you to see the kindler gentler side of Clubber Lang (see
"

spoiled brat" OJ Mayo
challenged) or Ivan Drago (a complimentary
Jake Plummer column
?).   His willingness to take unpopular stances is best symbolized by his repeated and outspoken advocacy for the potential
health benefits of regulated HGH and PED use by athletes
.

While Wilson has been relentlessly beating this drum since April, he may have influenced some journalists along the way. And of course, many more writers suddenly called for "rational discussion" after their favorite white athlete was busted.

4) Social Relevance: Sports is and has always been a social reflection of America
[1]
.  This is where Wilson makes his most indelible mark. Is there an American generational divide? Maybe we can learn from
Jerry Rice on Randy Moss
or NBA Ref
Joey Crawford T-ing up Tim Duncan
. While Wilson uses sport to address a myriad of social issues, he is never afraid to confront the subject of "race" head on. At a time where an athlete's race often influences the quality, quantity, nature, and duration of media coverage (see Pacman; Tim Donaghy; Barry Bonds; Roger Clemens; Michael Vick; Chris Benoit; Sean Taylor, etc.), his daily real-time articles help us wade through what is real, what is smoke, what is mirrors, and what is a blatant racial bias or baiting for advertising dollars. When not wondering what might happen "
if Eddie Robinson Could Die Every Day
" he is probably at his best when writing 5000+ word socio-political epics like this week's thoroughly original offering on the history and current state of "
the black quarterback
".   Last week
Kelly Tilghman's "lynching" commentary
on Tiger Woods tells us about her comments, but so much more about the state of media and race in 2007.

5) Game Knowledge: Former teammates and historians
have cited Mays
among the smartest and best-disciplined players in baseball history, and for having an encyclopedic memory for the pitchers and pitches he faced. Wilson's unflinching social commentary is a double-edged sword as his daily insights and knowledge into the games he covers tend to get lost in the sauce. If he never ever penned another socio-political piece, his observational skills and adeptness at "breaking down the game" would serve him quite well as a top-level beat reporter. Basketball? Take another look at those opening quotes on Bynum and the Lakers. Tennis? Wilson, a former tennis player, offers this analysis on the
state of the game in 2007
. Football? Did the valiant Eagles loss expose the Pats —
or the Eagles themselves
? Golf?
Why don't we know our golfers
? Baseball? Check out this prohetic passage

the day after

Rick Ankiel hit his first home run and long before HGH allegations surfaced:
"So, Rick Ankiel switched to the outfield and, against all odds, got the call back up to the Bigs. He reached out and flicked a home run on a pitch a few inches off the plate. …

My first thought? How the hell did Ankiel flick that pitch out of the park? HGH, steroids? He was off-balance, a bit fooled, reached out to make contact and yanked the ball over the right field wall about 10 rows deep. Not cool."
Is Wilson a sports Nostradamus? Not quite. He definitely underrated Dwight Howard in his preseason NBA rankings, and even picked the Seahawks to upset the Packers last week.  While such missed calls are commonplace (see Chris Berman any week or SI Jinx any year), insights like the Bynum, Lakers, and Ankiel quotes are not. These statements usually come from knowing and understanding the game.
II. The Rest of The Tool Shed:
Wilson's ongoing coverage of baseball and performance enhancing drugs is where he has most consistently displayed all five of his tools. Between Barry Bonds, Rick Ankiel, and the summer of HGH, he has seemingly compiled a good deal of Senator Mitchell's Report before it actually came out. In close to 40 separate detailed articles, he contributed many details that the good Senator forgot. For perspective, this one exhaustive tape measure shot,
The Real Dope On Barry Bonds and Those That Pursue Him
, includes: A) a brief history of steroid use in the US; 

B)

our federal government's historical role in promoting steroids; and

C)

the mainstream media's selective coverage of steroid scandals. Reading about the 1992 "Operation Equine" implicating Mark McGwire or 1988 Olympics' drug violations that include Carl Lewis and Alexi Lalas bring about a common phrase amongst Wilson blog commenters: "How come I didn't know about that?"  …And that question is probably the reason why Wilson doubles up as a sports media cop.
The Policeman: While Mays could throw out runners at the plate,

Wilson often guns down reckless media members with a canon of a pen. Sure, like any responsible writer he has the mandatory
Jason Whitlock columns
, but he is an equal opportunity critic. Seasoned writers or rookie writers; white writers or black writers, popular internet targets or journalism's protected class – no one s above the law. In this revealing passage, he
recently wrote
of a former mentor

:
"I stayed away from the

Washington Post's

Leonard Shapiro in my recent criticisms of the media coverage surrounding the shooting and subsequent death of Sean Taylor. Perhaps it was because subconsciously I saw him as a sort-of professional mentor when I was very, very young… that allowed me access to the world of newspaper writing, as a writer and sports editor first for a chain of weekly newspapers and then for a minute at the

Post

as a sports copy editor and high school sports feature writer rather than intern."
Wilson needed a day or two to work through his inner struggle "to write what's right". If he has yet to master the finer art of office politics, it is probably because the poor soul is too busy seeking some truth. The Sean Taylor coverage was a
watershed new low
in the field of sports media, and Wilson has provided the
definitive coverage why that was the case
.  One month the Washington Post's Sally Jenkins might get criticized, and the next month she
might get praised
. Most often he will aim to hold a monster like
ESPN accountable
, but catch him on a Sunday and he might be waxing nostalgic about
media's
good ole days
. His criticism can certainly be swift and strong, but you also get the sense that "business never personal" and that redemption is just around the corner if corrective behavior is taken.
Appreciating Wilson: Do I personally agree with all of Wilson's conclusions? No, I don't. And brace yourself — neither will you. Nor should you care. Wilson wants you to (gasp!)… "think".  He believes that steroid use, if regulated, can be a health asset – and not liability – to NFL players. Am I with him? Not quite. Has doubt crept into my head? Yes. Appreciating Wilson comes from understanding how the sports field suffers from an alarming amount of market-tested SAMENESS where sensationalism trumps truth; laziness trumps research; and popularity trumps courage.  Even very good and competent writers often socialize with other writers just enough to unwittingly "institutionalize" their opinions. The result is an awful lack of diversity in sports writing. And in this snarky, sound-bite, one-opinion-fits-all age —

Rick Reilly is king

. If you disagree, we kindly refer you to his

new ESPN paycheck

. The blueprint for writing riches has been set.  For the blogger starter kit, see Bill Simmons. For African-American sports-writer's edition, see

Jason Whitlock
[2]
. But Wilson is not content confirming the latest ESPN poll-tested sports narratives du jour: instead, he often challenges them.  His current wage?: Usually $0 dollars an hour for most articles– and on some months less than the $250 per that a 16 year old Willie Mays made

1947, when he played briefly with the
Chattanooga Choo-Choos
of the Negro Leagues.
So why is a man who can run circles around other writers like Willie runs around bases mostly writing for free? His past media criticism?

Not at all. Consultant contracts have standard clauses about criticizing their own company. Besides, media critiques never stopped Simmons' employment prospects. Is it that his writing will be perceived as controversial? Nonsense. Mike Lupica is routinely ADVERTISED as controversial – AND routinely wrong. Is it that his conclusions are too "unpopular"? In StopMikeLupica's [SML] excellent commentary yesterday on "
Why We Need More Minority Sportwriters
", he states:
"I personally don't always agree with everything Scoop Jackson writes; I don't agree with everything Jemele Hill writes, or even LZ Granderson.  Heck, I don't agree with every single thing D-Wil has written, you know? But do y'all agree with everything Mike Lupica writes?  Bill Simmons?  Pete Gammons?  Mitch Albom?  Is there any writer that meets that standard?  Then why are you holding black/minority writers held to some standard that you don't hold white writers to?"

SML's article cites a specific example of how Wilson's recent insight on Pacman Jones went missed by the mainstream media. To truly understand why Wilson is writing for thousands instead of millions of viewers, we have to dig a little bit deeper. "StopMikeLupica" (

and MCBias

) were responding to a far greater problem of institutional discrimination in sports journalism.